Our Collaborative Projects
Here you can browse short summaries of projects we've carried out in partnership with groups of cultural organisations who share characteristics or issues. These have added to our knowledge about expertise in audience development, community engagement and research, on behalf of the whole cultural sector.
We've never had anything as strategic or open as this before.

Karen Cardy, Marketing & LSO St Luke's Centre Director
By working jointly to research or address issues, each organisation's investment of time and money generates actions and insights far in excess of their individual capacity.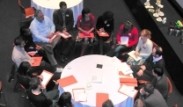 Take a look at our  projects via the links on the left - select by sector, artform or theme. Where projects have generated guidelines, case studies or reports, these are  signposted from the relevant project page.
 Organisations participate depending on their suitability for the focus of a particular project. Participation in Snapshot can also make it easier for organisations to collaborate. Collaborative projects have often been funded by Arts Council England, London Councils or other public bodies, and increasingly arts organisations come together to instigate and fund such projects directly themselves.
If there is an issue you want to investigate, and that you think is of equal concern to your peers, why not get in touch with us?