Services
We have now become The Audience Agency in alliance with All About Audiences.
Our services offer practical advice and support to help you devise, develop and implement your audience development objectives and plans. We now work with organisations across England.
For more information on our national work as the audience development agency for England, please visit The Audience Agency website.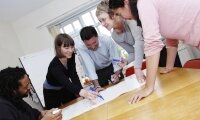 We offer every client a tailored package of resources, consultancy and support at the level that best suits their needs. Talk to us about how our team's in-depth knowledge of the sector can best serve your organisation and region.
Whether you need to understand your audiences, identify potential, increase income, engagement and reach or set and measure KPIs, you can select from the following:
Data analysis and profiling - a range of tools which give you insights into the socio-demograhpics and levels of arts engagement of your audiences or catchment area. Essential for developing targeted campaigns, tailoring messages and setting and measuring KPIs.
Audience research services and consultancy - a tailored approach to identifying your audience information needs and devising research programmes to help develop your marketing and audience development activity to meet audience needs. Perfect for monitoring audience experience, assessing levels of engagement and providing measures for KPIs, as well as informing marketing planning.
Strategic Advice - audience development, marketing and community engagement consultancy shaped to meet your organisational needs, providing you with practical tools, insight, ideas and support whether you're involved with organisational development, devising objectives, reaching new audiences or programme development.
Project Management - of collaborative initiatives, development programmes, conferences and symposia drawing on Audiences London's expertise in engaging participants, devising content and delivery.
Find out more by clicking on the links to the left. If you want help finding the right one for you please get in touch.
Find out about our current collaborative projects to give you inspiration.
Find out about our training seminars and events.